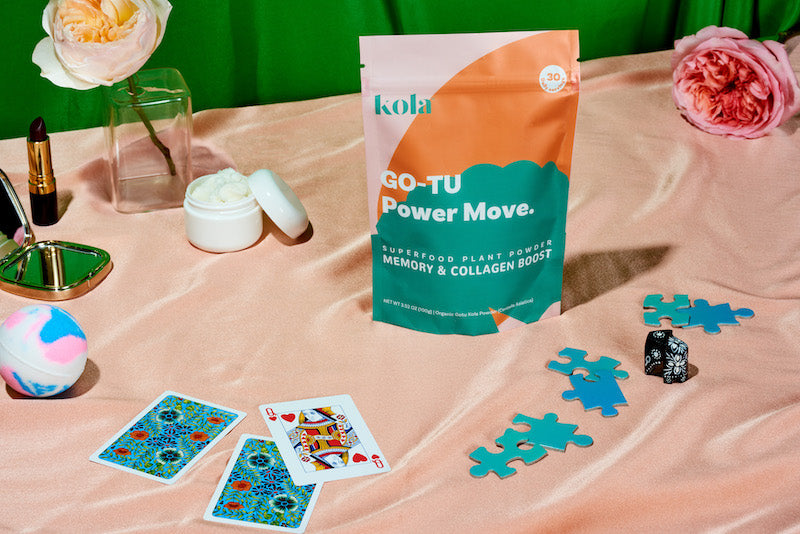 Why we're launching Kola Goodies in this surreal time
But now more than ever it's important to remind ourselves:
• Health is a wealth we can't take for granted
•There's a duality in every situation; there's always space for new beginnings
• Staying positive, informed, and willing to adapt will help us get through this
‍
What is Kola Goodies?
Kola[ koh-luh ] : Origin: Sinhalese (Sri Lanka) : noun 1. greens, leaves 2. color green
We take thousands of years of Ayurvedic wisdom in the form of superfoods and make them easy to incorporate into our busy lives. Creating easy wellness rituals with Kola Goodies to help you feel your best, both physically and mentally.
‍
‍
I started Kola Goodies because I wanted to connect the world with the natural, balanced wellness that was part of my childhood growing up in Sri Lanka. I looked around and saw that products from our heritage were becoming a trend, but nobody involved looked like me. I wanted to bring our South Asian products and stories to market with authenticity. I wanted to show that wellness shouldn't be so serious or extreme, instead, it can be fun — eat some pizza, have some gotu kola, and strike a healthy balance. So, I decided to create those products and share them with the world.
‍
Then, with just a few weeks to launch, the world started to shut down. It seemed like what I worked on for a year, to find the right farmer collectives, copacker, and creatives to bring our vision to life, all needed to be put on hold. That's when I leaned into our values.
‍
Kola Goodies is rooted in our Sri Lankan heritage and the immigrant hustle, both of which are markers of adaptability and resilience. I'm myself an immigrant — I landed in Pittsburgh at 18 for the first time for college, naive, optimistic and incredibly homesick for Sri Lanka. Through numerous highs and lows and the support of family, I thrived. Sri Lanka is the same, having had its fair share of hardships: 440 years of colonization, 30 years of civil war, and a tsunami resulting in 30,000 casualties in moments. The nation has always adapted, evolved, made mistakes but continued to grow, and remain a tropical paradise with people known for enduring, warm smiles.
‍
Our heritage gave us courage; we changed some launch plans, got creative and soft-launched with three products that we knew would help people, now more than ever. We launched:
• Ashwa-WOW to help you manage stress with ashwagandha
• GO-TU Power Move to boost your brains and beauty with gotu kola
• Golden Glow, our turmeric latte, to help boost your immunity
‍
‍
We'll be following up with the rest of our product lineup as soon as we can, so stay tuned.
There's no doubt this experience is transforming us all, but one thing that won't change is that Kola Goodies is here to make it easy and fun to use ancient goodies to boost your mental and physical well being in today's world.
‍
Drink Goodies, Feel Goodies.
P.S. We're a small company and just starting out, but our hearts are bigger than our pockets. We're donating 10% of our proceeds through April to the Small Business Relief Fund organized by GoFundMe.com.