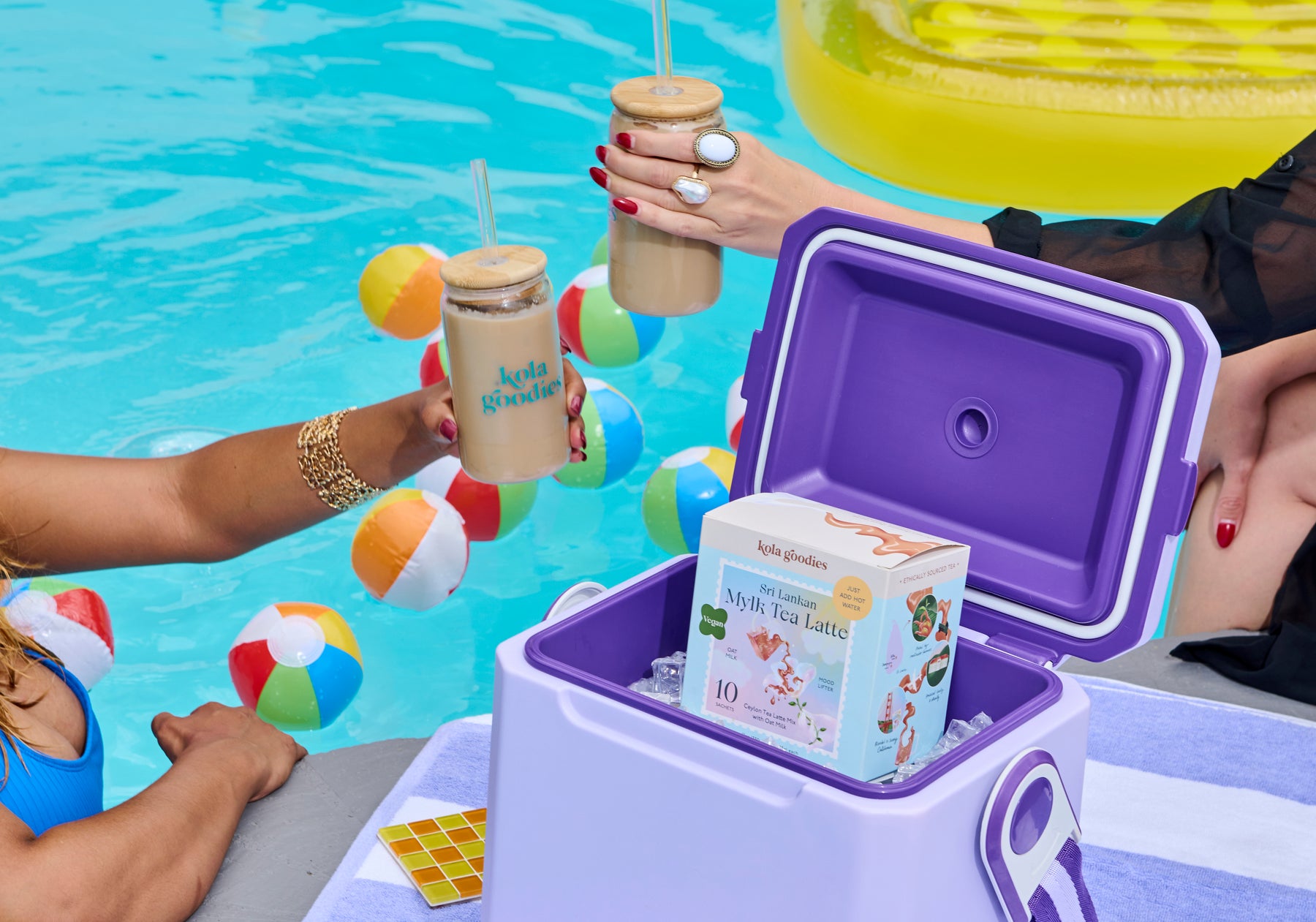 4 Easy Summer Iced Drink Recipes with Kola Goodies Lattes
You don't have to stop drinking tea, just because it's hot in the summer! Here are four easy and delicious cold bevy recipes you can make at home to stay cool. Three of these recipes are from our amazing Kola Goodies community, putting a unique spin on our lattes! 
1. Turmeric Latte Ice Cubes 
Courtesty of: Kola Goodies Team
Freeze our KG Turmeric Latte and add your favorite plant mylk for a calming & refreshing afternoon drink!
Directions: 
2. Blueberry Sri Lankan Chai
Courtesy of: Bonjour Home Cafe (@bonjourhomecafe)
Mash frozen blueberries (or use a store-bought syrup) and add Kola Goodies Sri Lankan Milk Tea over ice for a unique fruit-themed chai.
Directions: 
3. Easy Boba Milk Tea
Courtesy of: Honey Home Cafe (@honey_homecafe)
Simply add your favorite instant boba pearls to our Sri Lankan Milk Tea. Make milk tea at home for only $2.50!
Directions: 
4. Aesthetic Oat Mylk Latte 
Courtesy of: Bonjour Home Cafe (@bonjourhomecafe)
Want to feel Pinterest vibes? Add food coloring to ice cubes, and top with our Oat Mylk Tea Latte.
Directions: 
Huge thank you to Bonjour Home Cafe and Honey Home Cafe for creating these dreamy beverages with our latte mixes! Let us know if you make any of these refreshing creations and tag us on Instagram @kolagoodies.