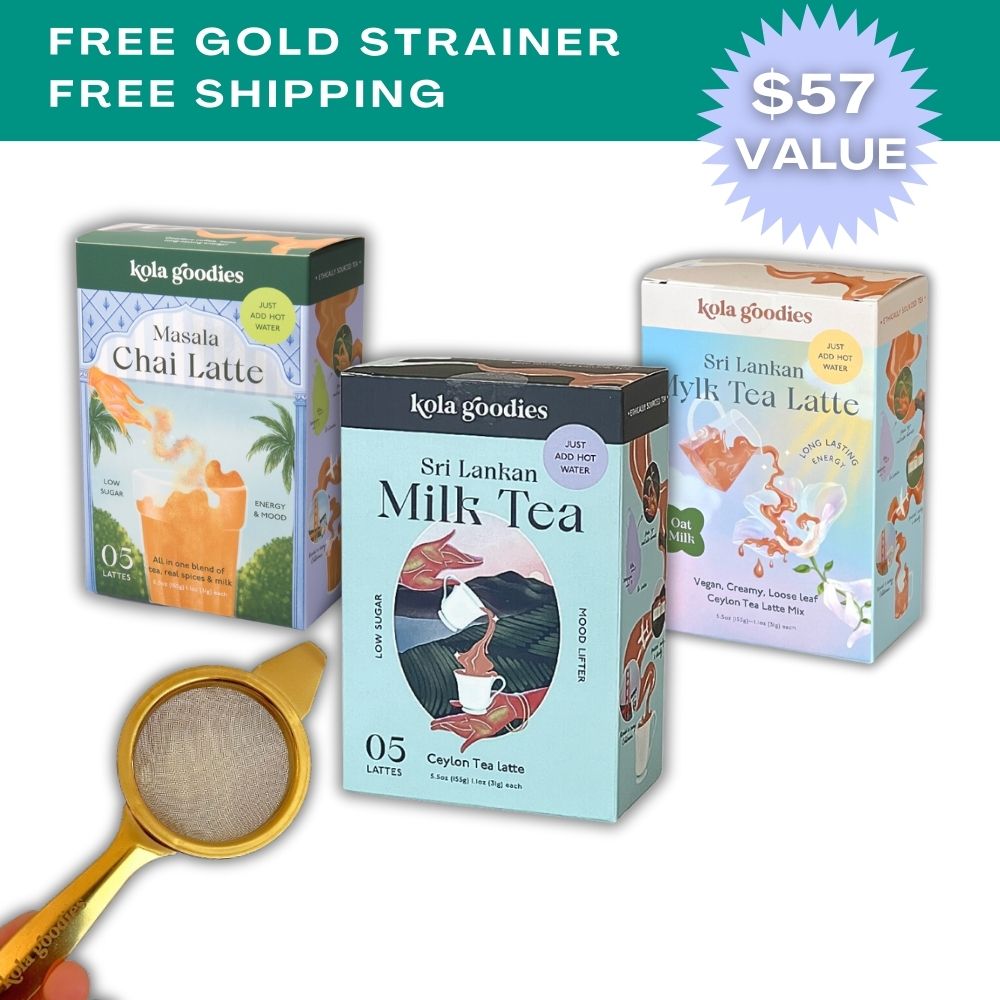 Tea Latte Variety Kit
💚 30-day money back guarantee
💚 Ships in 2 business days
Dive into the richness of Sri Lanka's tea traditions with our Tea Latte Variety Kit. This kit is a tapestry of taste and texture, perfect for those who love variety or are new to the wonders of tea lattes. Your journey includes:
Sri Lankan Milk Tea Latte (5 sachets): Each sachet is a creamy delight, bringing you the classic, strong flavor of Ceylon tea leaves with the perfect hint of sweetness for a smooth start to your day​

Masala Chai Latte (5 sachets): Experience the thrill of spice with each sip. Our Masala Chai Latte packs a punch with a blend of Ceylon black tea and an exhilarating mix of cardamom and ginger, finished with the sweet warmth of cinnamon and cloves​

Oat Mylk Tea Latte (5 sachets): Savor the plant-based goodness of our Oat Mylk Tea Latte. It's a harmonious blend of creamy oat milk and loose leaf Ceylon black tea, lightly sweetened with monk fruit and raw coconut sugar, offering a mellow, slightly floral note for a comforting, jitter-free energy boost​

Gold Tea Strainer: No kit is complete without the right tools. Our custom gold tea strainer is not just functional but a chic addition to your tea-making essentials, ensuring a perfect brew every time​
This variety kit is your all-in-one solution for those moments of craving, whether you're looking for a bold start, a spicy adventure, or a soothing retreat. Embrace the versatility and discover your favorite with this sampler of our most loved lattes.