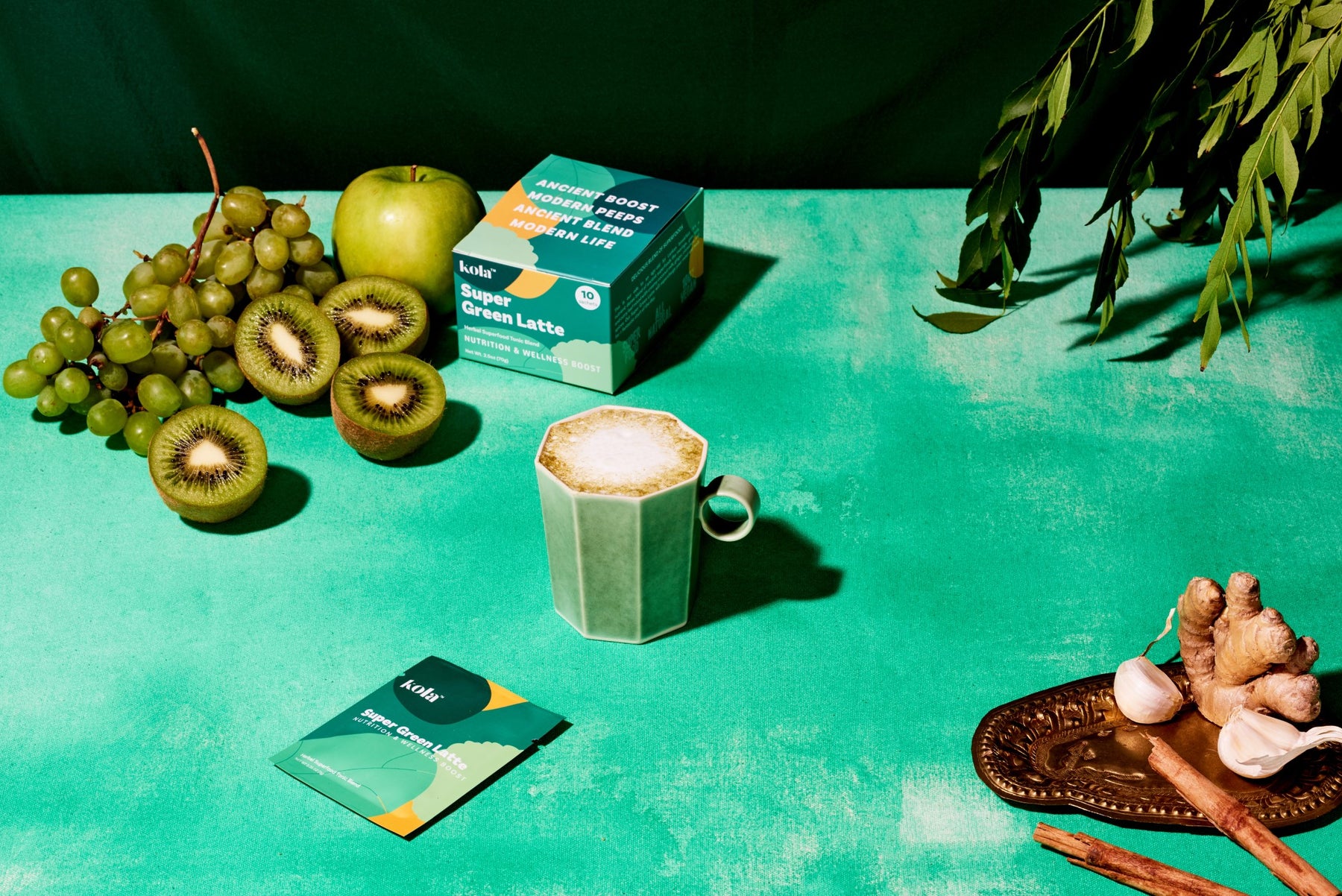 The O.G. Super Green Latte

Super Green Latte is our ode to an age-old Sri Lankan herbal breakfast drink called Kola Kanda (literally translates to green porridge). Powered by ancient wisdom, superfoods, adaptogens and spices to supercharge your day and help you stay energized and sharp.
Growing up, my mum used to make that traditional Sri Lankan herbal porridge, especially on weekend mornings (she was a solopreneur, so there's no way she had time to get three kids ready, run her business and press coconuts every morning). I still remember how she would squeeze fresh coconut milk, heat it and blend it with cinnamon, ginger, garlic, cooked rice, and all the herbal greens you can find, like Gotukola and Wal Penela, and serve hot. It was a thick, heavy and yummy beverage filled with nutrition. She still makes this everyday and I miss it a lot.
There are two ways to make Kola Kanda: the easy and fast, weekday morning way and the slow, weekend morning way. The fast way is to just add our Super Green Latte to hot milk of your choice or smoothie and enjoy. Below is how we like to make it on days we can take the mornings a little slower and it's also the closest to the traditional method of making it. Enjoy this soul warming little piece of a tropical island. Feel Goodies!
‍
Ingredients
4 tablespoons Super Green Latte powder (a blend of Gotukola, Moringa, Curry Leaf, Ceylon Cinnamon, Ginger and more)
1 13.5 oz can of coconut milk (thicker the better)
1 cup cooked rice (or oats, see notes below)
1 cup water
Honey or agave to taste
½ tsp salt
‍
Steps
1. Blend rice and water in a blender to get a creamy/thick texture
2. In a small saucepan, heat up the coconut milk on medium heat
3. Add the rice, stir well and let it simmer for 5 mins
4. Add the Super Green Latte powder, stir well and let it simmer on medium for 5-10 mins until everything integrates well together
5. Lastly add the salt and honey/agave to taste and feel goodies!
Options/modifications
Substitute rice with ½ cup of rolled oats, or skip rice all together
Feel free to add juiced greens (blend your choice of greens with some water and add it at step 4)
‍
Add water for thinner consistency and/or half the coconut milk
‍
A little more about the ingredients
+ Organic Gotukola: improves circulation, boosts collagen production and promotes neurotransmitter health and skin healing
+ Coconut milk: provides a creamy, vegan base
+ Organic moringa leaf powder: an anti-inflammatory for skin and brain
+ Organic Ceylon cinnamon: lower in coumarin (a blood-thinning compound found in cassia cinnamon) and improves blood sugar health
+ Curry leaf: a plant that promotes liver health
+ Ginger: an immune-boosting, anti-inflammatory that can relieve digestion issues and helps with activate digestive enzymes 
+ Garlic: for detoxification and immune function