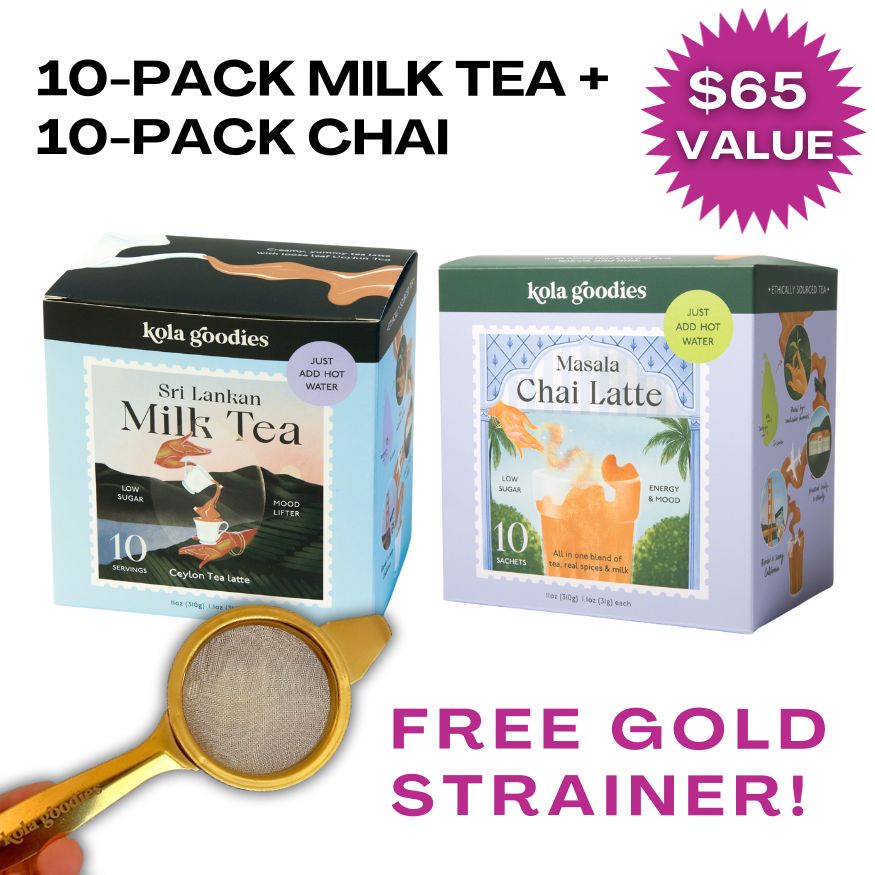 Wanderlust Bundle
💚 30-day money back guarantee
💚 Ship in 2 business days
Pack your senses for a journey with our Wanderlust Bundle, a collection of our most cherished tea lattes:
Sri Lankan Milk Tea: This isn't just milk tea; it's a sip of Sri Lankan heritage. Our authentic recipe uses Ceylon tea leaves for that classic, strong flavor, blended with creamy milk powder and a touch of sweetness. It's your shortcut to the island's beloved tea culture.

Masala Chai Latte: Awaken your taste buds with the aromatic spices of our Masala Chai Latte. Each cup is a blend of Ceylon black tea and traditional masala spices, offering a warm and invigorating chai experience.

Gold Tea Strainer: Brew your perfect cup with our chic gold tea strainer. It's not only a practical accessory for a clean brew, but also adds a dash of luxury to your tea time.
The Wanderlust Bundle is for the curious and the culture-seeking. Whether you're reminiscing on past travels or dreaming of new ones, these lattes bring the rich flavors of Sri Lanka to your mug. Ready to enjoy with just hot water, they're your passport to an instant getaway.